Please join to celebrate the life of Paul Joseph Choondakaran (02/26/1937 – 05/23/2022)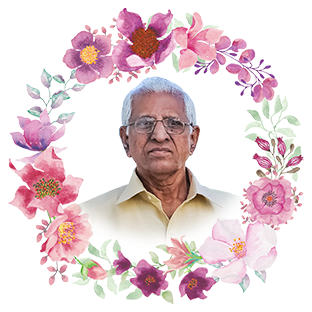 Viewing
Monday, June 6th, 2022, 4.30 pm to 8 pm
San Fernando Mission Cemetery & Mortuary
Rooms B-C
11160 Stanwood Ave,
Mission Hills, CA 91345
Funeral Mass
Tuesday, June 7th, 2022, 10 am
St. Alphonsa Syro Malabar Church
215 N Macneil St,
San Fernando, CA 91340
Weekly Bulletin
The Feast of Pentecost (5th June, 2022)
On the Feast of Pentecost, we commemorate the descent of the Holy Spirit upon the Apostles,while they were gathered together in the Upper Room along with Mother Mary (Acts 2:1-13).A "strong, driving" wind filled the room where they were gathered, and tongues of fire came to rest on their heads and they were all filled with the gift of the Holy Spirit. The Holy Spirit also gave the apostles the gifts and fruits necessary to fulfill the great commission – to go out and preach the Gospel to all nations.The feast of Pentecost is celebrated on the 50th day after the death and resurrection of Jesus, and ten days after His ascension into heaven. With the celebration of the feast of Pentecost,we begin the new liturgical season of Apostles (Sleeha). This season emphasizes the work of Holy Spirit in the Church. Therefore, all the faithful, filled with the Holy Spirit, is responsible to proclaim the good news of salvation.
June 1, Wednesday
7:30 PM: Holy Qurbana, Novena to St. Joseph
June 3, First Friday 
7:00 PM: Confession
7:30 PM: Holy Qurbana, Novena to St. Alphonsa
8:00 PM: First Friday Adoration (St. Mary's Family Unit)
June 4, Saturday 
10:00 AM: Holy Qurbana, Novena to Mother of Perpetual Help
June 5, Sunday | First Sunday of Apostles & The Feast of Pentecost
10.15 am: Holy Qurbana (Malayalam)
Qurbana Readings: Gen 2:1-8, Job 33:2-4,34:14-15, Acts 2:1-21, Jn 11:1-16
June 7, Tuesday 
10:00 AM: Holy Qurbana, Funeral: Paul Joseph Choondakaran
(Viewing 6th Monday 4.30 -8 pm, San Fernando Mortuary)
Bakersfield – No Qurbana
Let us remember:
Sundays Holy Qurbana at 10.15 am (Summer Holidays)
July 15-17: STEUBENVILLE CONFERENCE, TUCSON, AZ
July 22-31: Parish Feast
September 2-5: West Region Syro Malabar Catholic Youth Conference
October 1: Parish Picnic
Let us continue to strictly follow COVID-19 guidelines – Please wear a mask at all times.
May the Good Lord Bless and Protect All of You.
Fr. Sebastian Valiyaparampil
Vicariachan
Photos