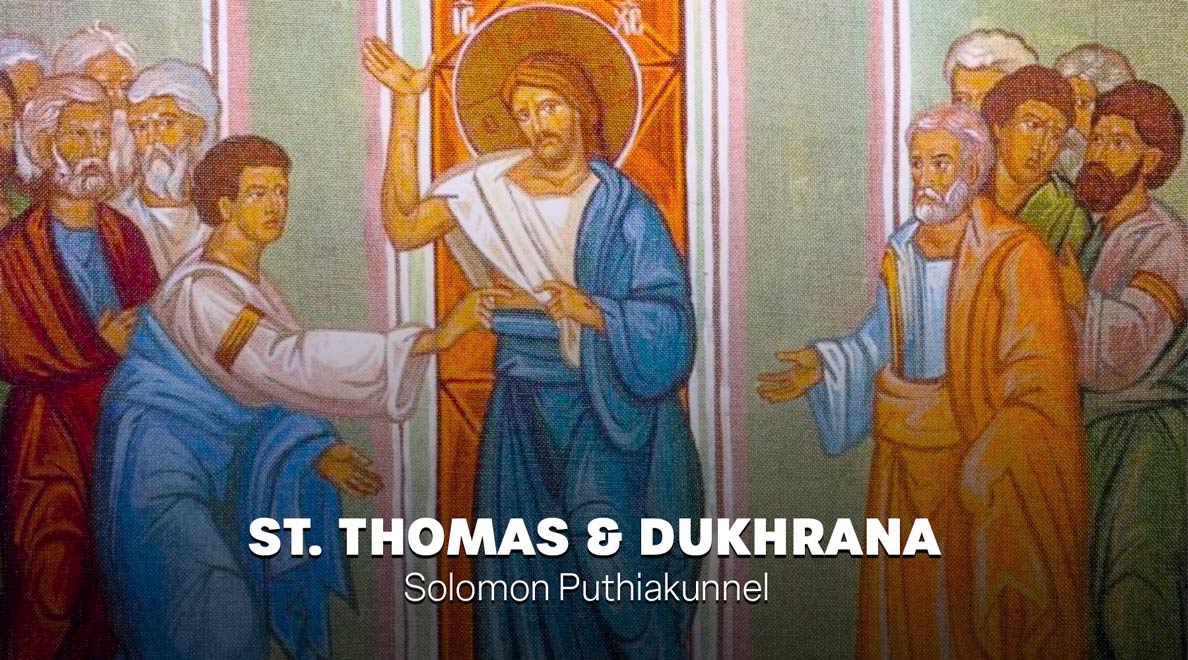 Solomon Puthiakunnel
On the third of this month, we celebrate the feast of Saint Thomas the apostle, our father in faith. St. Thomas, unlike the other disciples of Jesus, traveled outside the Roman Empire to preach the Word of God He is believed to have preached in many countries, but is known for his work in India, and for bringing our very own ancestors to the Triune God. Thus, it is important that we carefully study what he did to serve our Lord and celebrate his brave life.
The Gospel according to St. John narratesthree interactions of St. Thomas with Jesus.The first is in chapter 11, when the apostles were discouraging Jesus from returning to Jerusalem to see Lazarus,who died not long before. Thomas, in response to this, said, "Let us also go to die with him." This courage to stay with Jesus, even if it meant risking his own life, is a trait that we must imbibe/strive for/emulate . The commitment that Thomas had to Jesus is one that is crucial to our faith. In our own lives, when faced with adversities, we should stay strong in our faith and face the issueshead-on, just as Thomas did. After reaching Lazarus' family, not only were Thomas and the apostles safe, but they also witnessed the amazing miracle of raising the dead to life! Therefore, staying with Jesus through our troubles will lead us to salvation.
"Let us also go to die with him."
The next interaction between Thomas and Jesus recorded in the gospel of St. John is placed during the occasion of the Last Supper. Jesus says to the apostles, "You know the way to the place I am going." Confused, Thomas asks what Jesus means by this. Jesus fully answers his question; and He also answers the further questions of Phillip. This interaction shows that in times of confusion, we should be open and willing to ask our Lord questions. Whether that be in our personal prayer, or through God-given resources like our priests and elders, being curious is a great way of developing our faith further and deepening itSt. Thomas shows this to be true, and testifies to the divine intervention in the life of a true seeker after truth.
The final interaction Thomas had with Jesus is arguably the most famous one and does not put Thomas in a great light. After the resurrection of Jesus, He appeared to all his apostles but Judas and Thomas. Thomas says, "Unless I see the mark of the nails in his hands and put my finger into the nailmarks and put my hand into his side, I will not believe." Jesus, eventually,appears to Thomas and grants him what he wished for. This final interaction shows Thomas' doubtfulness and momentary lack of faith. However, he very soon after exclaims, "My Lord and my God!" Just as a passing cloud would cover the Sun momentarily, Thomas's faith was encircled by the cloud of doubt;he quickly reaffirms and reclaims it.This shows how we should repent and come back to Jesus, when we fall into sin.
Despite his lapse in faith, Thomas went on to become a powerful missionary of the Risen Lord filled with the power of the Holy Spirit. Following these few examples of Thomas from the Bible, we can become stronger Christians.