Diocese Abroad
Since Vatican II Syro-Malabar Church has started missions outside Kerala as well as abroad. The St. Thomas Syro-Malabar diocese of Chicago was established on July 1, 2001 and is the first Syro-Malabar diocese in a foreign country. It encompasses the entire United States of America and has its headquarters in Chicago, Illinois, USA. Mar Jacob Angadiyath is the first bishop an Mar Joy Alappat is the Auxilary Bishop.
St. Alphonsa Syro-Malabar Catholic Church Los Angeles
St. Alphonsa Syro-Malabar Catholic Church, Los Angeles is one of the pioneering Churches of St.Thomas Syro-Malabar Diocese of Chicago.  Kerala Catholic Association of Los Angeles was helping arrange liturgical services for the Catholic community in Los Angeles and Orange County prior to the establishment of our Diocese.  It was held regularly in St. John Eudes parish hall.  Now there are separate Churches for the people in Los Angeles and those of Orange County; known as St. Alphsonsa Syro-Malabar Catholic Church, Los Angeles, St. Pius X Knanaya Catholic Church, Los Angles and St.Thomas the Apostle Syro-Malabar Catholic Forain Church of Orange County respectively.

St. Alphonsa church's (then Blessed Alphonsa Mission) first official General Body was conducted in 2001 November 3rd under the leadership of Fr. Paul Kottackal and previously established Ad-hoc committee at St. John Eudes Church Parish Hall.  It was like a full-fledged parish, but without an infrastructure of its own.  Later with help of Brother John Crow at Rancho San Antonio, we celebrated Liturgical services in the chapel at 21000 Plummer street, Chatsworth California till 2008.
In July 2002 Bishop Mar Jacob Angadiath, Bishop of St. Thomas Syro-Malabar Diocese of Chicago officially appointed Fr. Paul Kottackal as the mission director, then called Blessed Alphonsa Syro-Malabar Catholic Mission.  It had liturgical services every Sunday and on other obligatory days. 
In 2008 April, with dedicated 50 plus faithful families, their pledged building fund and support of well-wishers, we purchased our first Church known as the St. Alphonsa Syro-Malabar Catholic Church of Los Angeles located at 607 4th Street, San Fernando.  On July 13, 2008, the Mission officially elevated to a Parish by Bishop Mar Jacob Angadiath and appointed Fr. Paul Kottackal as the first Vicar.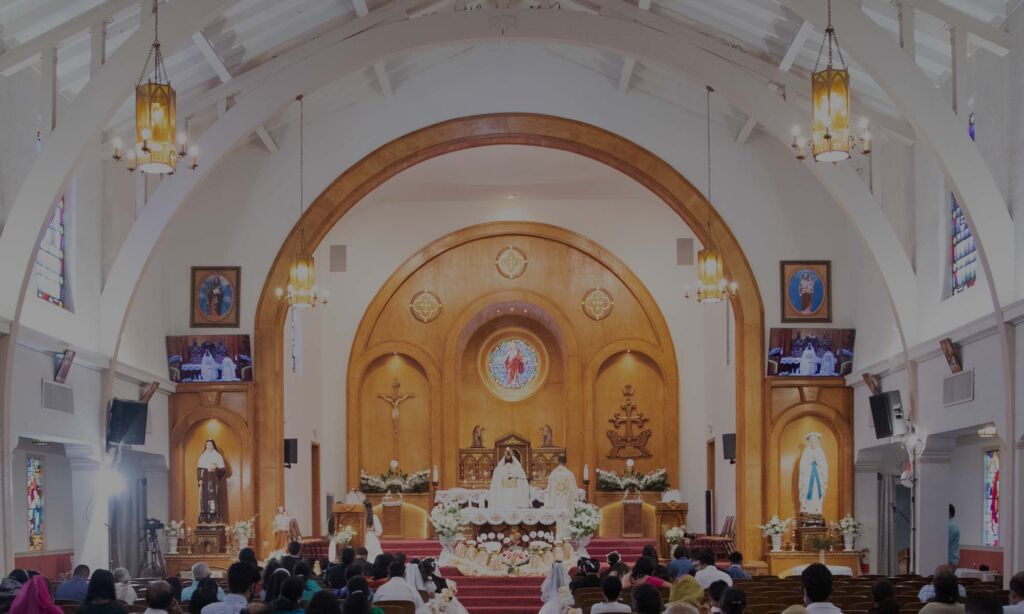 It has Parish Council of sixteen members and two trustee acts as an advisory body to the pastor.  The members are divided into six Family Units; Blessed Mariam Thressia, St. Chavara Kuriakose, St. Mary, St. Mother Teresa, St. Paul and St. Thomas.  Each unit periodically meets in a family's home to pray together and for Bible Study.  Ministry of Adult Religious, Religious Education for Children, Altar Servers, BAWA now known as SWASTHI -an association for women, St. Vicent DePaul Society, Cherupuzhpa Mission League (CML), Lectors Forum, Youth Wing, Website, Newsletter, Facebook, YouTube channel are some of the ministries started and very active in the Church.
On July 10, 2010 Fr. Paul Kottackal was transferred to (another) parish and Fr. Kuriakose Vadana was appointed as the new pastor.  In the 2013 General Body; with increased families and limited space for religious education, all agreed to pursue to purchase a bigger facility and officially formed the Church Expansion Committee.  Also started a pledge to contribute $10,000 or 10% each family annual salary towards our new church.  Fr. Vadana also started a special prayer for the same on every Sunday and started in search of new church.
On February 5, 2017 Fr. Kuriakose Vadana was transferred to another parish and Fr. Kuriakose Kumbakeel took charge of the parish from where Fr. Vadana left off.  It was in April of 2017 when we spotted our dream church, just walking distance from the current church at 215 North MacNeil Street, in the heart of San Fernando City.  With the dedication and determination of all families and whole heartedly contributing we made our dream come true.  All echoed, we prayed for a flower, but God blessed us with a garden of our own; a church with sanctuary seating of more than 400, 18 plus class rooms, a nice kitchen, fellowship hall and a chapel.  Also another community wish came through when the Archdiocese of Los Angeles bought our current church to keep it as a worship place.  
On 3rd February 2018, after the renovation of the altar, also on the first anniversary of Fr. Kuriakose Kumbakeel as the Vicar of St. Alphonsa Church; Bishop Mar Jacob Angadiath along with Auxiliary Bishop Mar Joy Alappat, consecrated the new church. At present Fr. Sebastian Valiyaparampil is serving as the vicar of the Church. St. Alphonsa Syro-Malabara Catholic Church of Los Angeles' faithful journey continues….
Saint Alphonsa
St. Alphonsa, the patroness of the Syro-Malabar Mission in Los Angles was born in a traditional Catholic family on August 19, 1910 in Kerala, India.  She became a nun in the Poor Clare Order, and started her life as an elementary school teacher. Blessed Alphonsa believed that suffering could help share in the saving work of Jesus, and used her suffering to serve others in silence. She was in poor health from the very beginning, and she was affected by a severe attack of pneumonia and tuberculosis. She died on July 28, 1946. Hundreds of miraculous cures are attributed to her. Most miracles are related to physical illness and physical deformity. Pope John Paul II while visiting Kerala in 1986, beatified Blessed Alphonsa. 
The missionaries seem to have had the impression that the St. Thomas Christians were not Catholics but Nestorians. It was because They accepted Bishops from the East Syrian Church which officially had adopted Nestorianism. This historical development took place immediately after the Council of Trent. This council was very tough against heretics. So they were all out to bring back the Syro-Malabarians to the Roman obedience. There were also the commercial interests in appointing Latin Bishops to rule the Syro-Malabarians. The last Bishop appointed by the East Syrian Patriarch for Syro-Malabar died in 1597. Then the Portuguese began to tighten their hold on the Syro-Malabarians, and never permitted any East Syrian Bishops to enter their colony in India.